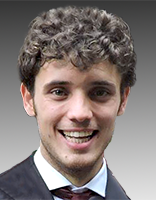 Carlo Ricciardi graduated with honors from the master's degree in Biomedical Engineering at the University of Naples Federico II in October 2017.
From 2018 to 2020 he has been a PhD student in Biomorphological and Surgical Sciences at the Department of Advanced Biomedical Sciences of the University Hospital Federico II.
He was research fellow from February 2021 to December 2021 at the Department of Chemical, Materials and Production Engineering of the University of Naples Federico II.
He is an Assistant Professor (RTDA) at the Department of Electrical Engineering and Information Technology of the University of Naples Federico II starting from December 2021.
His main research topics are:
Artificial intelligence in the healthcare sector with particular attention to application studies of machine learning;

Motion analysis and statistical analysis with attention to patients suffering from Parkinson's disease in its typical and atypical forms;


Healthcare management with applications of the Lean Six Sigma methodology in the hospital setting.
He has carried out supplementary teaching activities for the following courses:
He was organizer of the Special Session "Lean Six Sigma in Healthcare" in the 8th European Medical and Biological Engineering Conference (EMBEC), Portorož, Slovenia, 11 November - 3 December 2020.
He has been Guest Editor for the following Special Issues:
He was responsible for the Quality Movement Assessment in the research project "A Multicenter, Randomized, Double-Blind, Placebo-Controlled Study, with an Active-Treatment Dose-Blinded Period, to Evaluate the Safety, Pharmacokinetics, and Pharmacodynamics of BIIB054 in Subjects with Parkinson's Disease" active in the "San Giovanni di Dio and Ruggi D'Aragona" A.O.U. of Salerno.
.