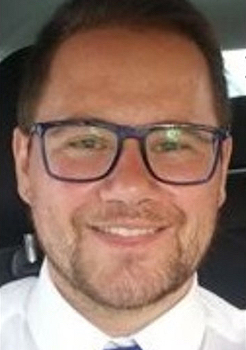 Leandro Donisi was born in Naples in 1990. He received Bachelor's Degree in Biomedical Engineering in 2012 with a dissertation on Biomechanics: "Static Schemes of Musculoskeletal Structures" and Master's Degree cum laude in Biomedical Engineering in 2018 with a dissertation on Medical Devices: "Comparative study of the performance of two accelerometric systems for gait analysis: Opal and G-Walk Systems"; both degrees achieved at University of Naples Federico II.
He is currently a PhD student in Biomorphological and Surgical Sciences at the Department of Advanced Biomedical Sciences of the University Hospital of Naples Federico II. Moreover he is an external consultant of the Institute of Care and Scientific Research Maugeri (Pavia, Italy) and has scientific collaboration relationships with national and international universities.
He has several participation as speaker at national and international conferences: Congress of Italian Society of Movement Analysis in Clinic (SIAMOC), National Congress of Bioengineering (GNB), Engineering in Medicine and Biology Conference (EMBC), Mediterranean Conference on Medical and Biological Engineering and Computing (MEDICON), International Symposium on Medical Measurements and Applications (MEMEA), Conference of the European Study Group on Cardiovascular Oscillations (ESGCO), Nordic Baltic Conference on Biomedical Engineering and Medical Physics (NBC), European Medical and Biological Engineering Conference (EMBEC) as documented from his scientific publications.
He is currently involved in the following research projects "Wearable Sensors and Machine Learning: A technological approach to assess biomechanical overload in lifting tasks", "Advanced Personalized Three-dimensional Printed Sensorized Orthesis".
He provides teaching support for courses in Biomedical Engineering: Biomedical Signal and Data Processing, Biomedical Image Processing, Telemedicine Devices. Moreover he carries out the activity as co-supervisor of thesis in Biomedical Engineering.
His main scientific interests involve: Machine learning, Statistics, Biomedical signal processing, Biomechanics, Gait Analysis, Wearable Devices, E-textile, Rehabilitation Medicine, Ergonomics, Clinical Engineering, Telemedicine. At present he is author and coauthor of several publications about these topics on national and international journals.